---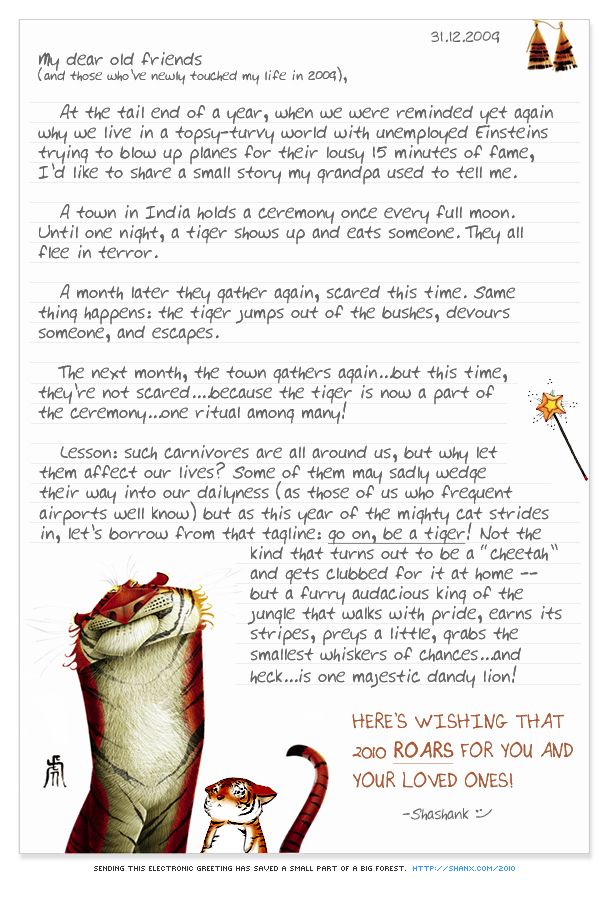 May 2010 roar for you and your loved ones!
At the tail end of a year where we were reminded yet again why we live in a topsy-turvy world with unemployed Einsteins trying to blow up planes for their lousy 15 minutes, I'd like to share a small story my grandpa used to tell me.
A town in India holds a ceremony once every full moon. Until one night, a tiger shows up and eats someone. They all flee in terror.
A month later they gather again, scared this time. Same thing happens: the tiger jumps out of the bushes, devours someone, and escapes.
The next month, the town gathers again...but this time, they're not scared....because the tiger is now a part of the ceremony...one ritual among many!
Lesson: such carnivores are all around us, but why let them affect our lives? Some of them may sadly wedge their way into our rituals (as those of us who frequent airports well know) but as this year of the mighty cat strides in, let's borrow from that tagline: go on, be a tiger! Not the kind that turns out to be a "cheetah" and gets clubbed for it -- but a furry audacious cat that walks with pride, earns its stripes, preys a little, grabs the smallest whiskers of chances...and heck...is one majestic dandy lion!
HERE'S WISHING THAT 2010 ROARS FOR YOU AND YOUR LOVED ONES!
-Shashank :)